We may earn money or products from the companies mentioned in this post.
(Last Updated On: May 2, 2023)
The Best Vegan Cornbread Recipe
This is the very best vegan cornbread ever – it's perfectly sweet, moist, crumbly and delicious!
I love dipping freshly made cornbread into hot soups, or simply eating it with a bit of vegan butter.
This recipe is free of eggs and dairy, and instead uses a simple dairy-free buttermilk trick that combines plant milk with apple cider vinegar (or lemon juice if that's all you have) to curdle the milk a tad and give it a similar consistency.
If you'd prefer a slightly more rich cornbread, you could also replace the plant milk with some unsweetened full-fat coconut milk, and simply stir the vinegar into this instead! I've tried both and slightly prefer the plant milk method, but both are delicious!
Perfectly Sweet and Soft Cornbread
The perfect cornbread to me is freshly baked, warm and slightly sweet.
It also has to be very soft and fluffy, which is thanks to a good amount of baking powder and some vegan butter to get that perfect texture.
The bread smells simply amazing while it bakes, and the aroma lingers for hours afterwards!
This is also a very budget-friendly bread to bake – cornmeal is one of the cheapest ingredients you can buy and it makes a good amount of bread! This is great because I think cornbread should be baked and available all winter long for snacking and for warming soups!
I just love the golden brown color of cornbread, and the savory and unique flavor it brings to the table, there's really nothing like it!
How to Make Egg-less Dairy-Free Cornbread
Mixing the Cornbread Batter
This is a one bowl cornbread recipe, which means it will come together and be baking in no time!
To begin, simply preheat your oven to 400 degrees and mix together all your dry ingredients in a large bowl.
Mix your vinegar and milk together and let sit for 3-5 minutes, then add to the wet along with the melted vegan butter.
Stir until well combined! If it seems too thick, add just a splash more of plant milk.
Baking Vegan Cornbread
Transfer to a lightly buttered 8×8 baking pan, and then bake for 20-25 minutes.
You'll know it's done when it's a beautiful golden-brown color, but double check by sticking a toothpick into the center.
If it comes out clean without any batter on it, your bread is done!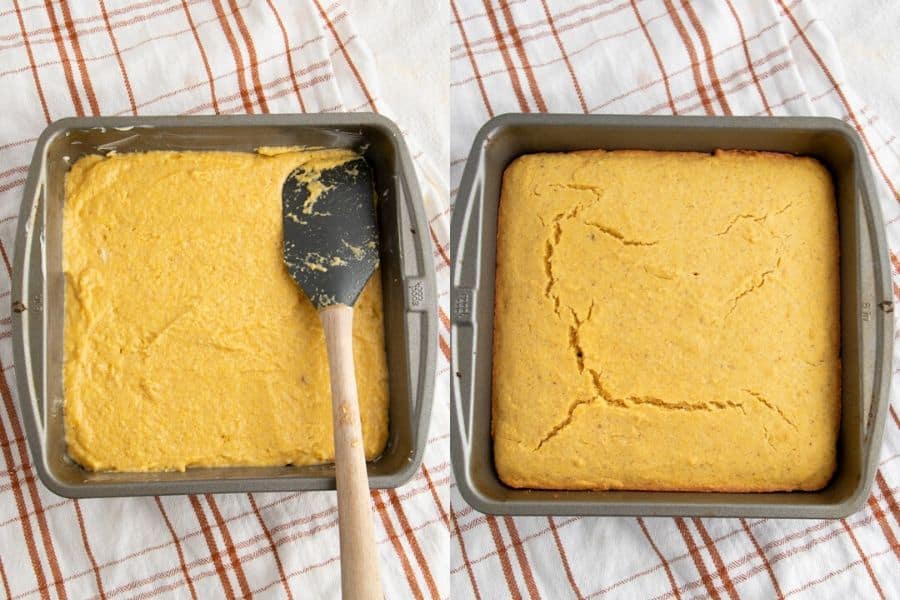 Healthier Baked Vegan Cornbread
This bread is not only dairy and egg free, but it's also not overly packed with fat or sugar. Just a tad of cane sugar and vegan butter adds all the flavor you need without making this bread a junk food.
This easy vegan cornbread would be a great addition to a dinner party because it's budget-friendly, easy to make and transport, and makes a lot of bread!
That being said, I find that refrigerating the bread tends to dry it out, so I would eat it as quickly as possible or at least within a day or two for the best texture. I would also recommend leaving it covered on the counter to avoid any dryness.
The next time you're making chili, pair it with this bread to dip into the soup – it helps fill you up and stretch out the chili for many more servings! Happy baking! 🙂
This recipe is:
Soft

Sweet

Quick

Easy

Golden Brown

Delicious

Comforting
Try this cornbread with these savory hot soups!
Butternut Squash & Fennel Soup
Pin this for later!
The Best Ever Vegan Cornbread!
This is the best ever vegan cornbread recipe that is soft, sweet, moist and crumbly! Easy to make and perfect with a bowl of hot soup!
Ingredients
1/3 Cup Vegan Butter, melted
1 1/4 Cup Plant Milk
1 Tsp Salt
Instructions
Preheat your oven to 400 degrees.
In a large bowl, mix together your flour, cornmeal, sugar, baking powder, salt and finely ground flax seed.
Stir apple cider vinegar into milk and let sit for 3-5 minutes. Pour into dry ingredients along with the melted vegan butter and mix until smooth.
Pour into a lightly buttered 8x8 pan and bake for 20-25 minutes, or until golden brown and a toothpick inserted into the middle comes out clean.
Allow to slightly cool and then cut into pieces! Serve with vegan butter or with a hot bowl of soup.
Nutrition Information:
Amount Per Serving:
Calories:

215