We may earn money or products from the companies mentioned in this post.
(Last Updated On: March 31, 2021)
Vegan Moroccan Couscous Salad
This vegan Moroccan couscous salad is packed with so much flavor and has simple, healthy ingredients.
This is not an authentic recipe, but simply my take on the delicious meal!
All you need is some couscous (you can use plain or pine nut flavored if you'd like), a can of chickpeas and a bunch or two of chard.
Flavors of cumin, coriander, garlic, olive oil and lemon help add some more depth and freshness to the dish, and the rest is all natural from the chard and broth!
You'll be amazed at how much flavor can be packed into such a simple dish, sometimes less is more!
Once everything is prepped, you can serve the dish with the chard and chickpea mixture on top of the couscous, or you can just mix everything together!
Moroccan Vegetable Couscous Recipe
I've made this recipe with other greens like kale or spinach, but nothing truly compares to the flavor that chard brings to the dish.
I was actually surprised by how much less flavor the dish had when I substituted with other greens!
That being said, the chard is a must, but you can use any type of chard such as red, rainbow or green.
Then you just need some olive oil, vegetable broth, some fresh lemon juice and a dash of spices and you're ready to go.
If you're in a pinch you can even use water instead of the vegetable broth, but the broth does add a ton of flavor and some added nutrients!
Couscous is such an underrated base for so many dishes, even though it's basically just pasta it has such a tasty soft texture, and makes it so easy to mix together dishes like this!
It also absorbs so much flavor, especially when you cook it with olive oil and vegetable broth.
It's a delicious and fun way to switch things up and it's the perfect base for the other ingredients.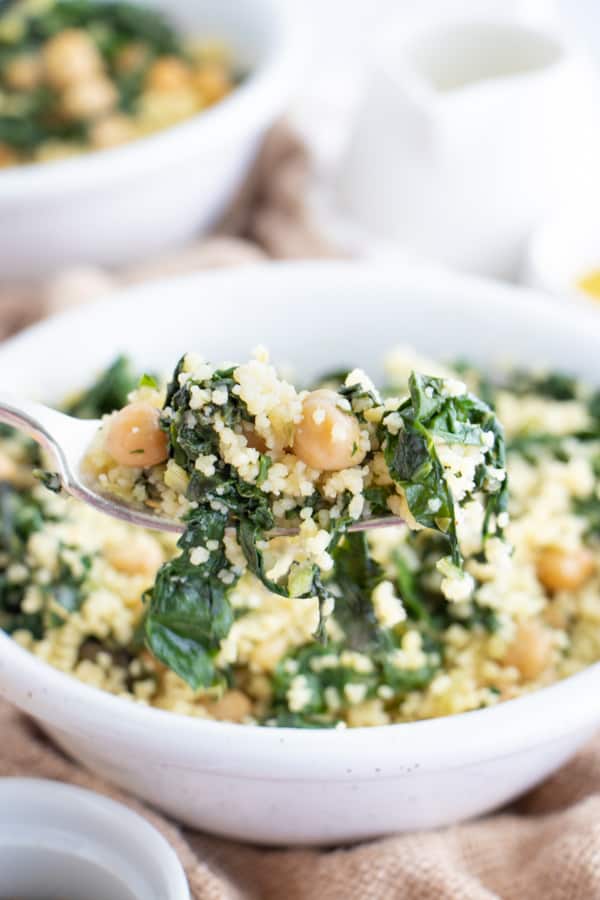 How to Make Vegan Couscous Salad
Preparing the Couscous
To make your couscous base, heat two cups of vegetable broth (or water if that's all you have) and two tablespoons of olive oil in a small pot.
Once boiling, add 10 oz. of couscous and cover.
Remove from heat and set is aside for 10-15 minutes until soft, then fluff it with a fork!
Cooking the Chard and Chickpeas
Now onto the greens!
Heat two tablespoons of olive oil in a large pan, then add the chopped chard and cook until it starts to wilt, about five minutes.
Then add the spices and chickpeas and continue cooking, covered and stirring occasionally, for another 10-15 minutes until the chard is nice and soft.
Add everything to a bowl and add the lemon juice – mix well and enjoy!
Like I mentioned earlier, you can also just serve the chickpeas and chard over the couscous and add the lemon juice on top – totally up to you!
Vegetarian Couscous Salad Recipe
This simple veggie couscous salad is such an ideal recipe for meal prepping.
You can make it ahead of time and keep it in the fridge for up to 3-4 days for best taste.
It can also be eaten cold, so you can easily take this on outdoor adventures – it's very hearty and filling and perfect for keeping you going!
This recipe is:
Quick and Easy

Vegan

High-Protein

Full of Flavor

Filling

Ready in Under 30 Minutes

Perfect for Meal Prep!
Try these other quick and easy vegan meal prep recipes!
Chickpea Avocado Salad Sandwich
Vegan Chickpea "Chicken" Salad
Pin this for later!
Moroccan Couscous
Easy and delicious vegan Moroccan couscous recipe with chickpeas and chard! This easy high-protein meal is so flavorful and is ready in under 30 minutes!
Ingredients
10 oz Uncooked Couscous
1 15oz Can Chickpeas
2 Bunches Chard
2 Cups Veggie Stock
4 Tbsp Olive Oil
2 Tbsp Lemon Juice
1 Tsp Ground Cumin
1 Tsp Ground Coriander
1/2 Tsp Garlic Powder
Salt/Pepper to taste
Instructions
Bring vegetable broth and 2 tbsp olive oil to a boil. Add couscous and remove from heat, allow to sit for 10-15 minutes and then fluff with a fork.
Add 2 tbsp olive oil to a large pan over medium heat. Add chopped chard and cook for about 5 minutes until it starts to wither a bit.
Add cumin, coriander, garlic, salt, pepper and chickpeas and mix well. Continue cooking, covered and stirring occasionally, for 10-15 minutes until greens are tender.
Add fluffed couscous, greens and chickpea mix, and lemon juice to a bowl and mix well. Enjoy!
Nutrition Information:
Serving Size:

1 Serving
Amount Per Serving:
Calories:

367