We may earn money or products from the companies mentioned in this post.
(Last Updated On: August 18, 2023)
---
---
---
---
Why use A dutch oven for baking sourdough?
When you're looking to bake the perfect sourdough bread, a Dutch oven can be your best tool in achieving that goal. Dutch ovens are so versatile and effective, and they provide several benefits that help enhance the overall quality of your sourdough bread.

To begin with, Dutch ovens create a sealed environment that traps steam, which helps with the vital oven spring during the baking process. This results in a good rise, open holes, and an airy texture within the bread. Furthermore, the trapped steam allows the crust to develop a beautiful, thin and crispy exterior, a characteristic sourdough bread is known for.

Medium-sized Dutch ovens, specifically those in the 4-5 quart range with a diameter of around 9 to 10 inches, are ideal for baking sourdough bread. They offer adequate space for a standard-sized loaf to expand and rise without touching the sides or lid. Large Dutch ovens with a capacity of 6 quarts and above can also be used, but ensure there's enough room for the bread to rise.

Using a Dutch oven for sourdough bread ensures consistent results each time you bake. There's no need to experiment with trays of ice or water to create steam, as the Dutch oven's design takes care of this aspect naturally. Simplicity, ease, and effectiveness make Dutch ovens the go-to choice for many home bakers striving for the best sourdough results.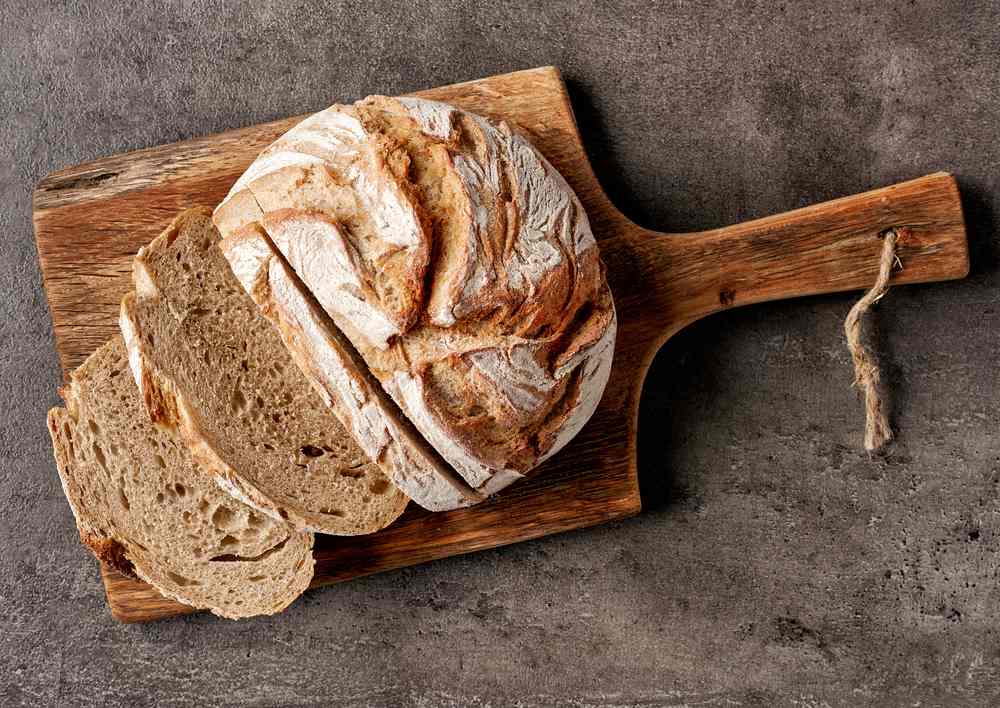 ---
Selecting the Ideal Shape and Size
Round Dutch Ovens
Round Dutch ovens are a classic choice for baking bread, specifically sourdough. They provide an even heat distribution that results in a well-baked loaf. Additionally, their shape promotes a rounded form for your bread, creating a beautifully shaped boule.

In terms of size, a 4-quart or 5-quart round Dutch oven is ideal for most sourdough bread recipes. Both sizes allow for ample space for the dough to rise and create steam, leading to a delicious crust and texture. Consider the following factors when choosing a round Dutch oven for your sourdough:
Size of the loaf: Ensure the Dutch oven is large enough to accommodate the expansion of your dough. Look for a Dutch oven with a diameter of about 9 to 10 inches.
Material: Cast iron or enameled cast iron are great options due to their heat retention and steady cooking temperature.
Oval Dutch Ovens
Oval Dutch ovens are another viable choice for baking sourdough bread. They offer versatility when it comes to loaf shape, allowing you to bake longer or differently-shaped loaves, such as batard or baguette. Keep in mind that the shape and size of your proofing basket or banneton will inform the dimensions of your Dutch oven.
Size: For sourdough bread, opt for a 6-quart or larger Dutch oven. The extra space ensures your dough won't touch the sides or lid, preventing any issues with the final product.
Material: Like round Dutch ovens, enameled cast iron or cast iron are the best options due to their even heat distribution qualities.
Remember, the key to selecting the ideal Dutch oven for baking sourdough is to prioritize size and shape according to the type of bread you want to make and the size of the loaves you typically produce. Matching your Dutch oven to your personal preferences enhances your bread-making experience and the quality of your finished sourdough.
---
Baking Sourdough in a Dutch Oven: Step-by-Step
Baking sourdough bread in a Dutch oven is a simple and rewarding process that yields consistent results with a beautifully crispy crust and soft, moist crumb. The Dutch oven creates an ideal baking environment by trapping steam and maintaining an even temperature, resulting in a superior oven spring. Follow these steps to bake the perfect loaf:
Prepare your sourdough starter: Ensure your sourdough starter is active and mature. It should be bubbly and double in size after feeding. Beginner bakers can follow a sourdough starter recipe to create their own.
Mix the dough: Combine your active sourdough starter with the flour and water required by your recipe. My favorite is simple: 120g. vigorous sourdough starter, 250g water, 400g bread flour, 9g sea salt. Mix these ingredients until they're incorporated.
Autolyse: Gently mixing your flour and water. Let the dough rest for 30 minutes to 1 hour, allowing the flour to fully hydrate. This will make your dough easier to work with and improve the overall crumb structure.
Add salt: After the autolyse period, add the salt to your dough and incorporate it thoroughly. This step will help strengthen your dough and enhance the flavor of your final loaf.
Bulk fermentation: Allow the dough to rise at room temperature for several hours or until it has almost doubled in size. During this time, you can perform a series of stretch-and-fold or coil-and-fold maneuvers every 30-60 minutes to help build dough strength.
Pre-shaping: Gently shape the dough into a round, being careful not to deflate it too much. Allow it to rest for 20-30 minutes, covered with a damp cloth.
Final shaping: Shape the dough into a tight round, boule, or batard shape, and place it seam side up in a well-floured proofing basket or banneton.
Cold fermentation: Cover the dough and refrigerate it for 8-24 hours. This step will help develop deep and complex flavors in your loaf.
Preheat your Dutch oven: Place your Dutch oven with the lid on in the cold oven and preheat it to the maximum heat recommended by your recipe, typically around 450°F (230°C).
Score and bake: Carefully remove the hot Dutch oven from the oven and transfer your dough from the proofing basket to the Dutch oven. Score the top of the dough to allow for oven spring, and then cover with the lid. Bake for 20-25 minutes with the lid on to create steam, then remove the lid and bake for an additional 20-30 minutes to develop a golden, crispy crust.
Cool your loaf: Once the baking time is complete, remove your sourdough bread from the Dutch oven and transfer it to a cooling rack. Allow it to cool for at least 1 hour before slicing and enjoying your perfectly baked sourdough bread.
Remember to practice and experiment with different recipes, techniques, and timings to find what works best for you and your specific baking environment.
---
Caring for Your Dutch Oven
Cleaning and Maintenance
Regular cleaning and maintenance ensure your Dutch oven performs at its best, even at high temperatures. Here are some methods for maintaining cleanliness:
Enamel Dutch Ovens:
Use a soft sponge or dishcloth, warm water, and mild dish soap for regular cleaning.
Avoid using abrasive cleaners or scrubbers, as these can damage the enamel.
For stubborn stains, create a paste using baking soda and vinegar; let it soak for an hour before wiping clean.
A Magic Eraser can be helpful in cleaning enamel without scratching.
Cast Iron Dutch Ovens:
After cooling down, wash with warm water and a soft brush or sponge. Avoid using soap, as this can strip the seasoning.
Dry the pot thoroughly and apply a thin layer of oil to its surface before storing it.
If there's food residue, you can boil some water and baking soda in the pot; it will help lift the stuck particles.
Keep in mind that most Dutch ovens are not dishwasher-safe. If they are considered dishwasher safe, I'd still recommend handwashing for longevity (or at least keeping the dishwasher to a minimum ;))
---
Accessories for Baking Sourdough in Dutch Ovens
Parchment paper is a must-have when baking sourdough in a Dutch oven. It prevents your no-knead dough from sticking to the bottom of the pot and makes it easier to transfer the dough into the oven. Simply shape your dough on a piece of parchment paper, and when it's time to bake, lift the paper and place it with the dough in the Dutch oven. Using parchment paper also reduces the need for additional flour or oil, keeping your crust crisp and your bread flavorful.

Our favorite is King Arthur Natural & Unbleached Parchment Paper

A banneton, or proofing basket, is another essential accessory for successfully baking sourdough bread in a Dutch oven. By providing your dough with support during the final rise, bannetons help maintain the shape and structure of your loaf. To use, lightly dust the banneton with flour before placing your shaped dough inside. Cover the dough with a breathable cloth or a plastic bag to prevent drying and let it rise until it's ready to bake. Remember that the size of your banneton should match the size of your Dutch oven to ensure a proper fit.

Our favorite round banneton is Superbaking banneton and bread proofing basket
Our favorite oval banneton is the Superbaking oval banneton and proofing basket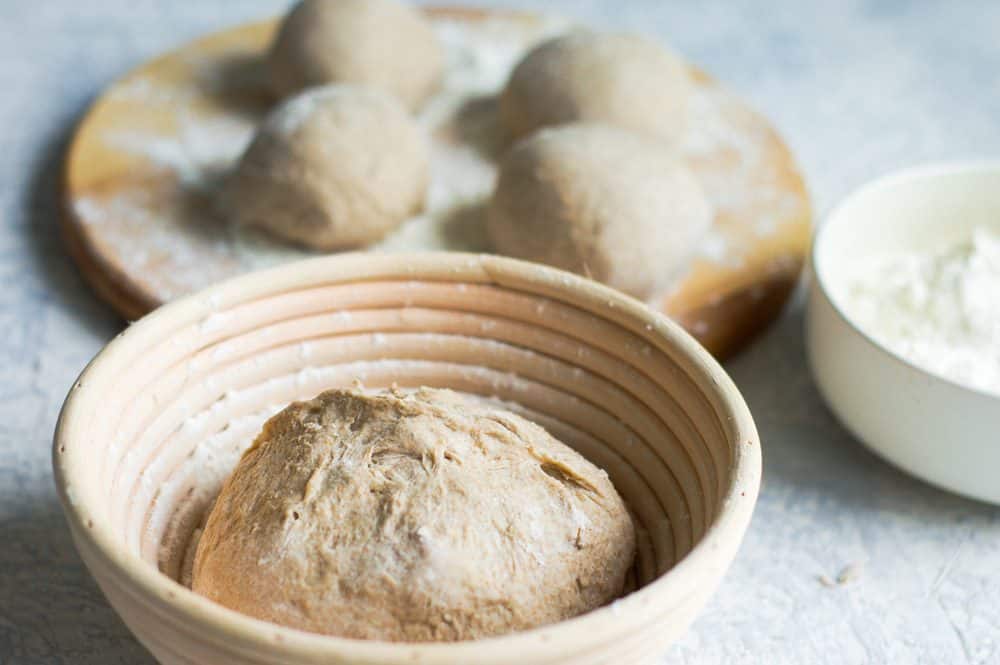 For those new to sourdough baking, a dough scraper is a helpful tool to have in your arsenal. It helps in handling and shaping your no-knead dough, making the process much easier. A dough scraper allows you to easily lift, turn, and fold the dough without it sticking to your hands or the work surface.

The dough scraper we use comes in the Superbaking kit

Using a digital scale is beneficial when preparing your homemade sourdough. Accurate measurements of flour and water will lead to consistent results, ensuring your dough is the right consistency each time you bake. Measured ingredients by weight are more accurate than using volume measurements, leading to better overall bread quality.

I use this one by Etekcity, which has been fantastic for so many different things!
---
Frequently Asked Questions
Do enameled or cast iron Dutch ovens perform better for sourdough?
Both enameled and cast iron Dutch ovens can yield great results when baking sourdough bread. The choice between the two types comes down to your personal preference and how you plan to use your Dutch oven. Enameled Dutch ovens have a non-stick surface, which can make removing the bread easier and require less maintenance.

On the other hand, cast iron Dutch ovens are known for their exceptional heat retention and even heat distribution properties, ensuring a consistent crust on your sourdough. Ultimately, either type can be suitable for baking sourdough, and the key is finding one that suits your needs and preferences.
What is the ideal size of a Dutch oven for baking sourdough bread?
The ideal size of a Dutch oven for baking sourdough bread depends on the size of the loaf you usually make. It is essential to choose a Dutch oven that is large enough to accommodate the increase in size your loaf will experience when baked.

A good starting point would be a Dutch oven with a capacity of 4 to 6 quarts, as it provides ample space for standard-sized sourdough loaves. Additionally, consider the dimensions of your proofing basket or banneton and ensure the Dutch oven you choose has adequate room for your loaf to expand.
Are affordable Dutch ovens as effective as more expensive options for sourdough?
Affordable Dutch ovens can still produce great results when baking sourdough bread. The primary factors to consider when looking for a Dutch oven are its heat retention, even heat distribution, and size. As long as the affordable option meets these requirements, you can expect satisfactory results for baking sourdough.

However, more expensive Dutch ovens may offer benefits such as better build quality, enamel coatings, or more even heating. These factors can contribute to a better crust on your sourdough and potentially more consistent results.
---
Finally, don't underestimate the importance of investing in a quality Dutch oven for your sourdough baking adventures. With the right size and material, you can achieve a perfectly crispy crust and tender crumb every time. So, take the time to research and choose the best Dutch oven for your needs, and get ready to enjoy some seriously delicious bread!