We may earn money or products from the companies mentioned in this post.
(Last Updated On: April 27, 2023)
Vegan Gingerbread Muffins
Ginger and molasses have got to be the best flavors of the holiday season, and these healthy gingerbread muffins are the perfect balance of these flavors! I don't know why I forget about them the rest of the year when I'm baking! 
Regardless, December to me is the month for gingerbread muffins, cookies, lattes, and anything else I can find/create with it! I just love the earthy, spice flavor that makes it stand out from other holiday flavors. 
Christmas Morning Gingerbread Muffins
If you're looking for something sweet to bring to your Christmas breakfast/dinner, these will be a crowd pleaser for all ages! They are ridiculously moist and sweet thanks to the apple sauce and almond butter, and have a unique dark brown sugar flavor.
But, they could also easily be gluten free by switching out the flour!
Orange-Maple-Vanilla Icing
This frosting is to die for – and a perfect compliment to the ginger, molasses, cinnamon flavors in the muffins!
I used freshly made orange juice, organic pure maple syrup, and organic vanilla extract to get the most out of the flavors! So, I think you'll love the fruity addition to the spiced muffins!
Cashews (of course) are a great, neutral base for you to add your flavors to. I also love how using them allows me to use syrup instead of processed powdered sugar, and still get the smooth, thick, white frosting we want!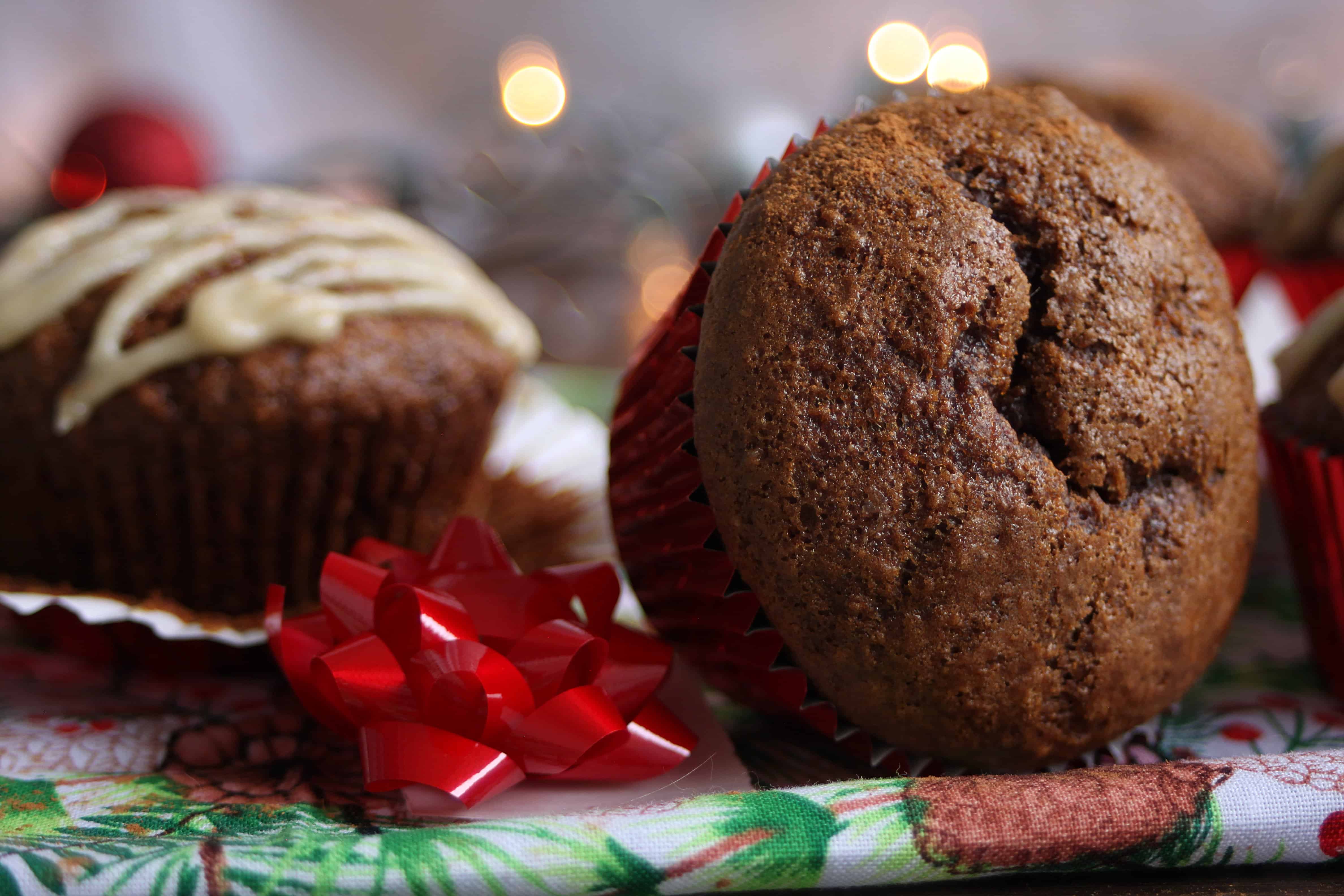 Gingerbread anything makes me feel so cozy and festive, and these muffins are just perfection. I know you'll love them too!
These muffins are:
Moist

Soft

Sweet

Healthy

Vegan

Oil-Free,

With a Dark Brown Sugar Aroma!
If you loved these muffins, be sure to try my Easy Vegan Carrot Cake as well!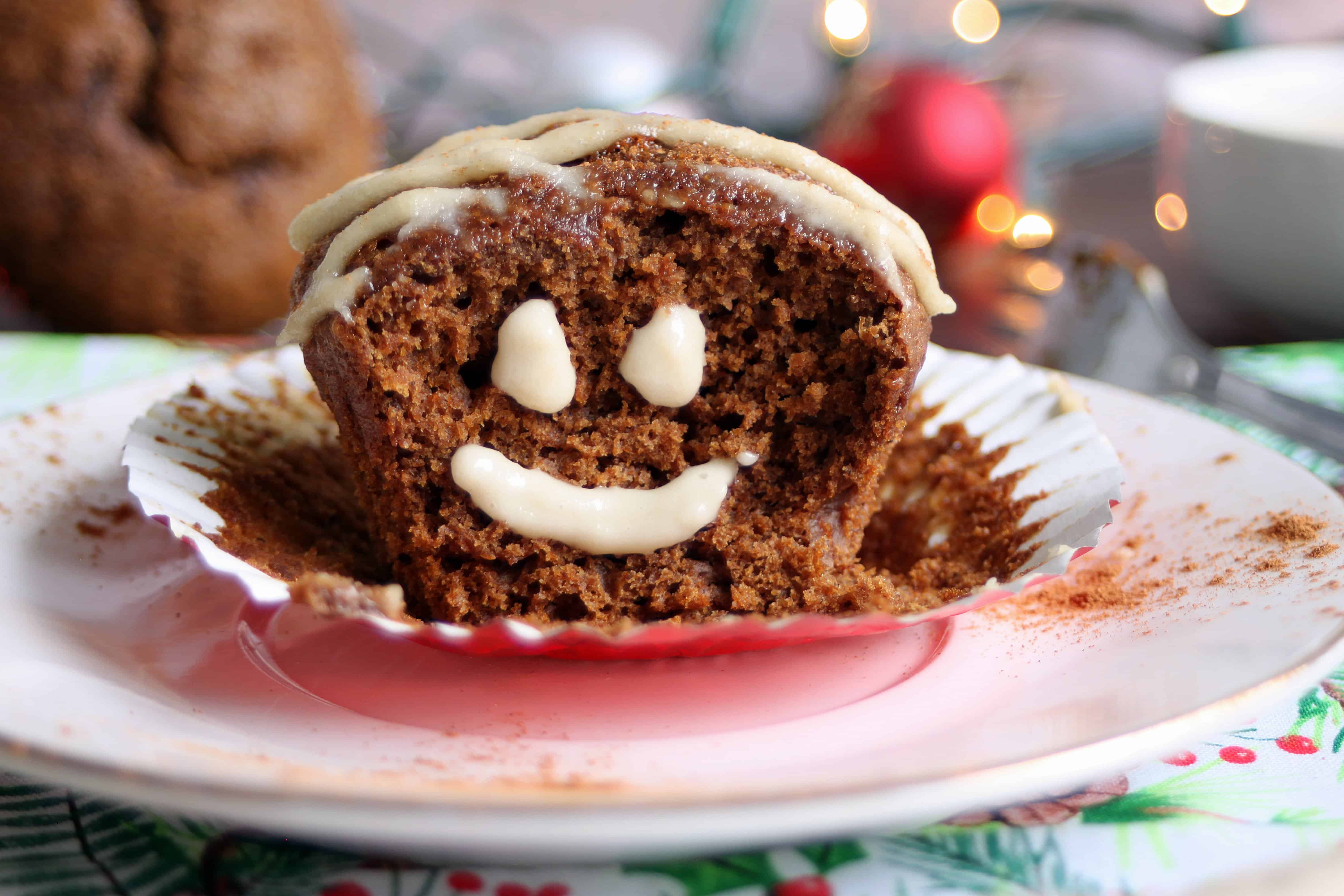 Just having some fun with the leftover frosting! 🙂
Feel free to make any decorations you'd like with the frosting! It's easy to pipe and thick enough to hold it's shape. However, the only problem I had with it was when I let it sit in the piping bad too long and it got a bit clogged, so I'd recommend using it right away!
Pin this for later!
Healthy Gingerbread Muffins
Soft, sweet and moist healthy gingerbread muffins with an orange maple icing - a match made in heaven! Also vegan and oil-free!
Ingredients
For the Muffins:
1/4 Tsp Salt
1 Tsp Ground Ginger
1/2 Cup Almond Milk
1/2 Cup Coconut Sugar
1/4 Cup Unsweetened Apple Sauce
1 Tsp Vanilla
2 Tbsp Maple Syrup
For the Frosting:
1 Cup Cashews*
1/4 Cup Fresh Orange Juice
2 Tbsp Almond Milk
Pinch Salt
Instructions
Preheat oven to 350°F. Add muffin liners to a muffin baking tray.
Combine flour, baking soda, cinnamon, coconut sugar, salt and ginger in a bowl. Mix well.
In a separate bowl, combine almond milk, molasses, applesauce, almond butter, vanilla and syrup. Mix well.
Pour dry ingredients into wet ingredients and gently fold together - be careful not to overwork the batter, just fold until flour is mostly incorporated.
Fill muffin liners 3/4 full with batter, sprinkle with more coconut sugar if desired, and bake for 15-18 minutes, or until a toothpick comes out clean when poked in the middle of the muffin.
Add cashews, vanilla, orange juice, almond milk, maple syrup and salt into a blender. Blend until smooth, adding more almond milk or syrup to taste/consistency desired. Drizzle over cooled muffins and enjoy!
Notes
*Soak cashews overnight in cold water, or in hot water for at least 15 minutes before blending.