We may earn money or products from the companies mentioned in this post.
(Last Updated On: August 18, 2023)

When it comes to prepping delicious meals, a well-equipped kitchen should be a top priority. One of the most important tools you need in your arsenal is a high-quality kitchen knife set.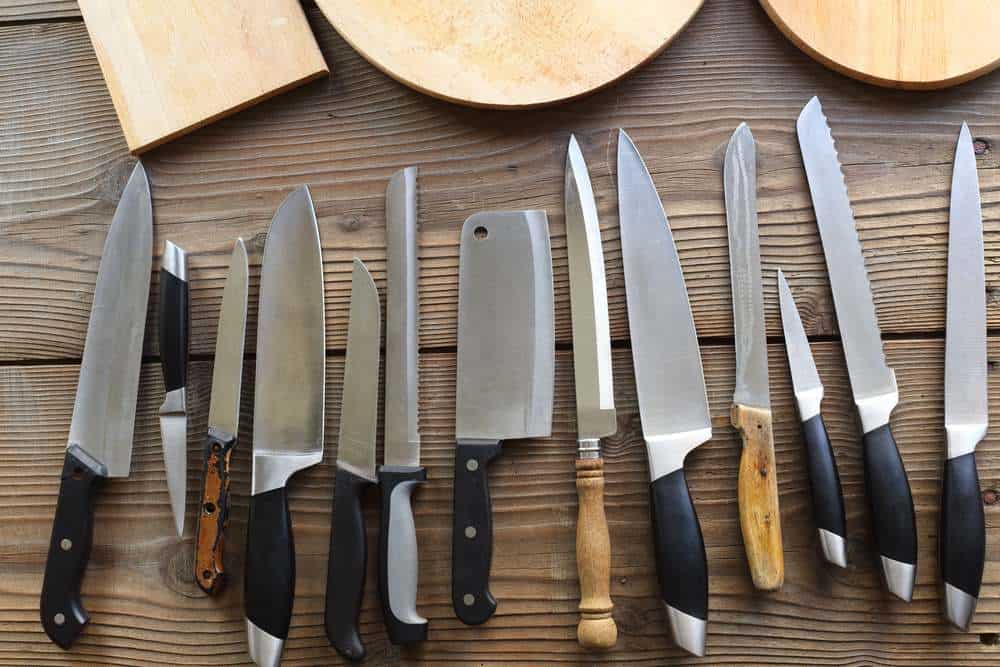 Choosing the right knife set can make all the difference – in both the ease of meal preparation and the enjoyment of your culinary creations. We've compared the best kitchen knife sets of 2023, and come up with the best, to help you find the perfect addition to your kitchen.

There are so many sets out there, we've broken down all the unique features, benefits, and drawbacks. Our goal is to make it easy for you to find the ideal knife set that matches your needs, preferences, and budget.
---
Our Top 3 Picks

Best Overall
HENCKELS Statement Razor-Sharp 15-Piece Knife Set with Block

Best Splurge
Wüsthof Classic 9-piece Knife Block Set

Best Budget
Home Hero Kitchen Knife Set

---
Best Overall
If you're looking for a high-quality knife set that offers superb value and quality, the Henckels 15-pc Knife Block Set is a great choice. (And it's "middle-of-the-road" for pricing, too!)
Pros
Professional, ultra-sharp blades
Over 100 years of production & mastery (they're built to last!)
Lightweight, easy-to-use
Cons
Scissors may not be as durable as the knives
This 15-piece knife set includes everything you need, from a 3-inch paring knife to a 8-inch chef's knife and even a hardwood knife block. The traditional triple-rivet handles are curved for comfort and balance, and the stainless-steel endcap adds aesthetic appeal to your block display.

The single-piece, stamped blade construction provides durability, and the professional, satin-finished blade is both precise and sharp. Cleanup is a breeze – wash by hand or in the dishwasher!
---
Best Splurge
If you're looking for a high-quality, forged knife set, the Wüsthof Classic 9-piece Knife Block Set is our pick for the best splurge!
Pros
Precision Edge Technology
Forged, high-carbon stainless steel blades
The triple-riveted handles
Cons
Not dishwasher safe
Relatively expensive
This knife set is precision forged in Solingen, Germany, and features a 14-degree cutting edge on each side of the blade, reducing drag when slicing through foods.

The PEtec edge enhances the sharpness of the blades by 20%, making them incredibly sharp and long-lasting. The full tang, high-carbon stainless steel blades add balance and weight for effortless cutting. The triple-riveted POM handle resists fading and discoloration for long-lasting durability, and the Trident logo on the handle is permanent and wear-resistant.
---
Best Budget
If you're on a budget and looking for a complete kitchen knife set, the Home Hero Kitchen Knife Set is a great option with over 65,000 Amazon reviews.
Pros
20 piece-set has everything you need
Stainless steel and ergonomic handles
Knives for all purposes, including carving, utility, cheese, pizza, chef, bread, paring, and steak knives
Cons
The knife stand is a bit tall, so it may not fit well under lower cabinets
Requires regular sharpening
The Home Hero Kitchen Knife Set is a great value for the price and provides quality knives for everything you can cook up. Although they're not name-brand, you'll still find these knives to be super sharp and easy to handle. Bonus – the contemporary look of the knife holder is a fun addition to so many kitchens!
---
Victorinox 8-Piece Knife Block Set 8 Pc Fibrox
This Victorinox 8-piece knife block set is an excellent choice for both home chefs and professionals. The Swiss quality and lifetime guarantee against defects in material and workmanship make it a worthwhile investment for any kitchen.
Pros
Includes a paring knife, boning knife, chef's knife, bread knife, slicing knife, sharpening steel, kitchen shears, and a slant hardwood block for storage.
High carbon stainless steel
Ergonomic handles, comfortable, non-slip grip
Cons
The knives are crafted with high carbon stainless steel, making them durable and long-lasting. They are also conical ground and ice tempered to ensure sharpness. The ergonomic Fibrox Pro handles provide a comfortable, non-slip grip, even when wet. The knives are weighted and balanced for easy handling and comfort.
---
If you're looking for a reliable brand, and fantastic quality, the Chicago Cutlery Racine 12-Pc Kitchen Knife Set is definitely worth considering.
Pros
High-carbon stainless steel
Triple stainless steel rivets on the walnut handle and full metal tang
26 Degree Taper Grind edge for sharpness
Cons
Fewer knives than other sets
Still should be sharpened regularly
With a 4.6-star rating and over 7,900 ratings on Amazon, this knife set has proven to be a popular choice among home cooks.

The knives are designed with a 26-Degree Taper Grind® edge for precise cutting and easy sharpening. The beautiful walnut handles with triple-rivet construction provide a comfortable grip, making them easy to use for extended periods.
---
If you're looking for a versatile and durable kitchen knife set, the McCook Knife Set is a great option.
Pros
Built-in sharpener
High-carbon, one-piece stainless steel
Optimized weight and balance
Cons
Not dishwasher safe, so you'll need to hand-wash them
The McCook Knife set includes 15 pieces, including an 8″ chef knife, a 5″ santoku knife, and six 4.5″ serrated steak knives. The knives come with a hardwood block for storage, which also includes a built-in sharpener!

The exclusive taper grind edge technology provides optimum sharpness for precise cutting and is easy to re-sharpen. The knives are also tarnish-resistant, making them easy to clean and maintain.
---
If you're looking for a good-looking knife set with superior performance, precision, and accuracy, Cuisinart Classic Forged Triple Rivet Cutlery is a great choice.
Pros
Includes 15 pieces of knives
High-carbon stainless steel blades
Extra-wide forged safety bolster
Cons
Not dishwasher safe
White handles may get stained
Doesn't include a bread knife
This knife set is well-built with a lifetime warranty. The extra-wide safety bolster ensures perfect stability and control, while the stainless steel rivets secure the full-tang blade to the ergonomically designed handle.

The high-carbon stainless steel blades are tapered ground to an extremely sharp, fine edge for precision and accuracy. The knives are constructed for perfect stability and control, making them ideal for all your kitchen needs.
---
Types of Kitchen Knife Sets
When you're searching for the perfect kitchen knife set, it's crucial to understand the two primary types of knives available: forged and stamped.
Forged
Forged knives are created using a single piece of high-quality steel, which is heated and hammered into shape before being harden, and finally sharpened. They tend to be higher priced compared to stamped knives. What you will appreciate about forged knives:
Durability: Since they are made from a single piece of steel, they typically have a full tang, providing balance and strength.
Sharpness: The forging process creates a stronger edge that retains sharpness for a longer period compared to stamped knives.
Weight: Forged knives are generally heavier, giving you more control and stability while cutting.
Some of the well-known forged knife sets include the Wusthof Classic Nine Piece Block Set.
Stamped
Stamped knives, on the other hand, are made by cutting the blade shape out of a flat sheet of steel. The blade is then heat-treated, honed, and sharpened. These knives are usually lighter and more affordable than their forged counterparts. Key features of stamped knives include:
Affordability: Since stamped knives require less labor to produce, they are generally less expensive than forged knives.
Lightweight: The thinner, lighter build of stamped knives can help reduce hand fatigue during prolonged use.
Variety: Due to their manufacturing process, stamped knives can be found in a wide range of designs and types, allowing for more personalization in a kitchen knife set.
The HENCKELS Statement 15-Piece Knife Set and the Victorinox 8-Piece Knife Block Set 8 Pc Fibrox are examples of popular stamped kitchen knife sets.
---
Essential Knives in a Set
Chef's Knife
A chef's knife is the workhorse of the kitchen. It's essential for a range of tasks such as slicing, dicing, and chopping vegetables or meats. The blade is typically 8 to 10 inches long and features a curved cutting edge. You'll want to ensure your set includes a high-quality chef's knife, as you'll use this knife daily for a variety of cooking tasks.
Paring Knife
A paring knife is a small, versatile knife with a 3 to 4-inch blade. It's perfect for precision tasks such as peeling, trimming, and slicing small fruits and vegetables. Paring knives are ideal for tasks that require more control and delicate handling, so make sure your set features one of these handy tools.
Bread Knife
The bread knife has a long, serrated blade that's designed to easily slice through crusty or soft bread. It's an essential part of any kitchen knife set, as it makes cutting bread and other baked goods a breeze. The serrated edge also works well for cutting through soft fruits and vegetables with minimal crushing.
Utility Knife
A utility knife usually has a longer and narrower blade than chef's knives, typically around 4 to 7 inches long. This knife is useful for small to medium-sized cutting tasks, like trimming meats and slicing smaller vegetables. A utility knife falls between the chef's knife and the paring knife in terms of size, making it a versatile addition to your knife set.
Serrated Knife
A serrated knife, sometimes called a tomato or sandwich knife, has a slightly longer blade (around 5 to 6 inches) and small, sharp serrations that make it ideal for slicing through items with delicate exteriors and soft interiors. It's perfect for easily slicing tomatoes, citrus fruits, and sandwiches without crushing or tearing.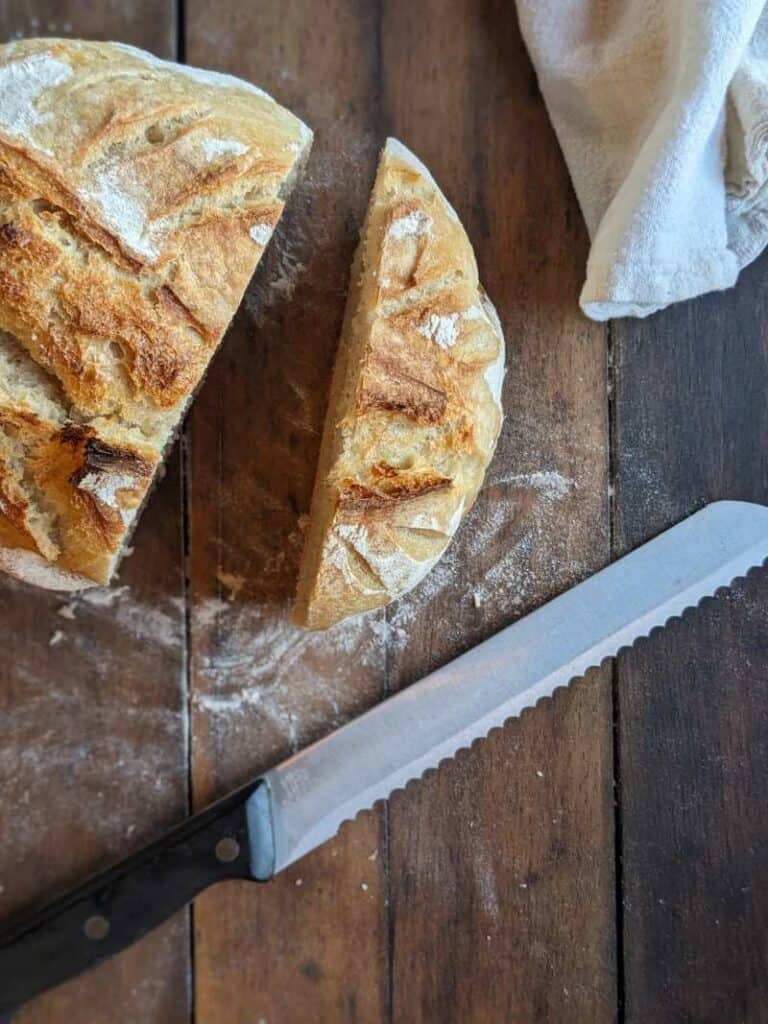 ---
Material Considerations
Stainless Steel
Stainless steel knives are a popular choice due to their durability and resistance to rust and corrosion. These knives typically feature a high chromium content, which prevents discoloration and helps maintain a shiny appearance. With proper care and maintenance, stainless steel knives can stay sharp for a long time, making them a practical option for your kitchen.
Some advantages of stainless steel knives include:
Durability: Stainless steel is known for its strength and ability to withstand regular use in a busy kitchen.
Corrosion resistance: The high chromium content helps to prevent rusting and discoloration of the knives.
Low maintenance: Stainless steel knives require less care and upkeep compared to other materials.
High Carbon Stainless Steel
High carbon stainless steel knives combine the best features of carbon steel and stainless steel. These knives have a higher carbon content, which improves the ability of the blade to retain a sharp edge for longer periods of time. Additionally, the added chromium provides the same rust and corrosion resistance found in stainless steel knives.
Some benefits of high carbon stainless steel knives are:
Long-lasting sharpness: The high carbon content allows for longer edge retention, resulting in less frequent sharpening.
Corrosion resistance: Like stainless steel knives, the chromium content helps to prevent rust and discoloration.
Balanced performance: High carbon stainless steel knives provide a balance between the sharpness of carbon steel and the durability of stainless steel.
Ceramic
Ceramic knives are made from zirconium oxide, a material that is known for its extreme hardness and sharpness. These knives are lightweight and easy to use, making them a popular choice for many home cooks. However, ceramic knives can be brittle and prone to chipping if not handled properly.
Here are some key points about ceramic knives:
Sharpness: Ceramic knives are known for their extreme sharpness, making them an excellent choice for precision cutting tasks.
Lightweight: Ceramic knives are lighter than their metal counterparts, making them easy to maneuver and reducing hand fatigue.
Non-reactive: Ceramic knives won't react with acidic or alkaline food, helping to preserve the taste and quality of your meals.
---
Handle Design and Comfort
A well-designed kitchen knife handle can significantly improve your food preparation experience. Considering the comfort, balance, and safety of a knife handle is crucial when choosing the best kitchen knife set for your needs.
Full Tang
A full tang handle is one where the knife blade extends throughout the entire length of the handle. This design provides superior balance, control, and durability, as it makes the knife more resistant to breaking or bending under pressure.
Partial Tang
Partial tang handles, on the other hand, have blades that extend only partway into the handle. While they may be more affordable and lightweight than their full tang counterparts, they may not offer the same durability or balance.
Handle Material
The material used in the handle of a kitchen knife also plays a significant role in its comfort and functionality. Here are some common materials used in knife handles and their benefits:
Wood: Wooden handles, such as those found in the Chicago Cutlery Racine 12-Pc Kitchen Knife Set, offer a classic and elegant appearance. They provide excellent grip and are often comfortable to hold. However, they may require additional care to maintain and can be susceptible to water damage and bacteria growth if not properly treated.
Plastic: Lightweight and low-maintenance, plastic handles are a popular choice for many affordable knife sets. They are easy to clean and can be highly resistant to temperature changes and moisture. On the downside, some plastic handles may feel cheap and could become slippery when wet.
Stainless steel: They are durable, hygienic, and easy to clean, but may lack grip when wet or become uncomfortable after extended use due to their weight.
Composite materials: Some knife handles use a combination of materials, such as wood and synthetic resin. These composite handles can provide the best of both worlds, offering grip, comfort, and durability while being low-maintenance and resistant to water damage.
---
Maintenance and Care
Honing and Sharpening
To keep your kitchen knives sharp and efficient, it's important to hone and sharpen them regularly. Honing helps realign the edge of the blade, while sharpening removes material to create a new, sharp edge. Use a honing rod or steel for regular maintenance, and a whetstone or knife sharpener for sharpening when needed. Remember to keep a consistent angle during the honing and sharpening process.
Cleaning
Proper cleaning is essential for the longevity and performance of your kitchen knives. After each use make sure to rinse under warm water, gently wash with soap and a soft sponge, and dry with a soft towel.
---
Remember, a suitable knife set is an important investment in your cooking experience and will make preparing meals faster, easier, and more enjoyable!
---