We may earn money or products from the companies mentioned in this post.
(Last Updated On: June 25, 2022)
Vegan Italian Pasta Salad Recipe
There are few recipes as simple to put together as this vegan Italian pasta salad!
It's filling, flavorful, healthier and a great way to get in some veggies.
I love pasta salad recipes for busy nights or summer get togethers, they are so easy to make much more filling than a normal salad.
They also only take about 20 minutes to put together and are a huge crowd pleaser.
All you have to do is cook the pasta and chop the rest of the ingredients into bite-sized pieces!
My favorite ingredients for an Italian-inspired pasta salad are cherry tomatoes, cucumber, green pepper, red onion, black olives and parsley!
The salad is then topped with a flavorful, herbed Italian dressing and tossed to coat evenly.
Because of how easy this recipe is to put together, you can also prepare it the night before and just give it a quick toss before serving!
If you love summer pasta recipes, try my Creamy Vegan Lemon Pasta too!
Quick and Easy Homemade Pasta Salad
As a vegan, many people think that all I eat is green salads, but I'll have to admit I only have them a couple times a week!
I would almost always opt for a pasta salad like this when given the chance.
It seems to keep my full longer and be much more satifsying.
If you'd like, you could also add some vegan cheese and vegan pepperoni or sausage bits to make it more of a balanced meal!
Otherwise it's great as a side or as a snack, and does offer a bit of protein on its own.
My favorite part of this recipe is the fact that the natural flavors of the veggies and herbs are the stars.
There's not much processing going on here, just whole foods and all their wonderful flavors along with the pasta!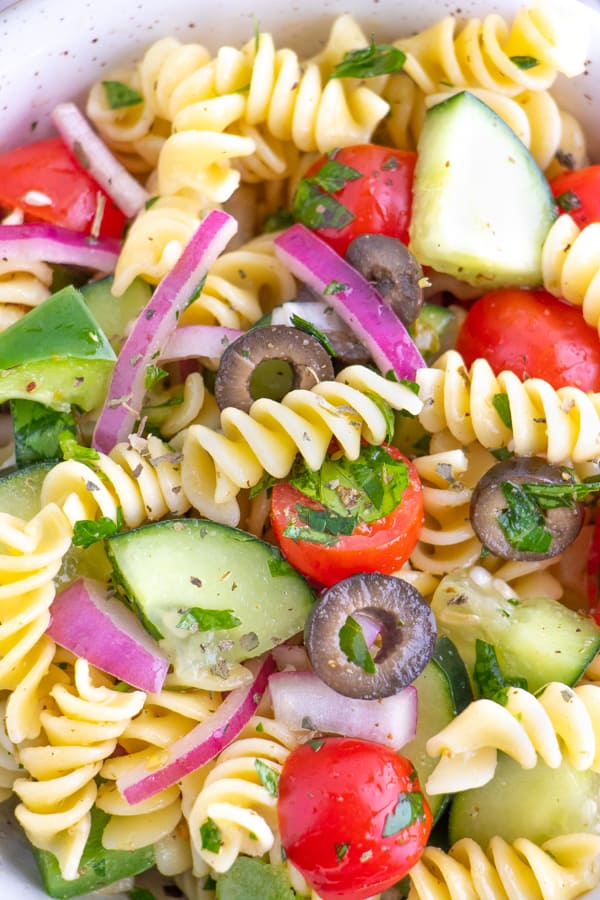 How to Make Vegan Pasta Salad at Home
To make this quick and easy Italian pasta salad, start by cooking your pasta according to its package until it's tender.
While it's boiling, start chopping all your veggies into bite-sized pieces and adding them to a bowl.
You'll want to make sure your black olives are pitted and sliced, that your red onions are not too thick and that your parsley is chopped.
Once the pasta is done, drain it and add it to the bowl along with some Italian dressing, or simply opt for olive oil!
The simplicity of this recipe is really what makes it a big hit, aside from it being so tasty and irresistible!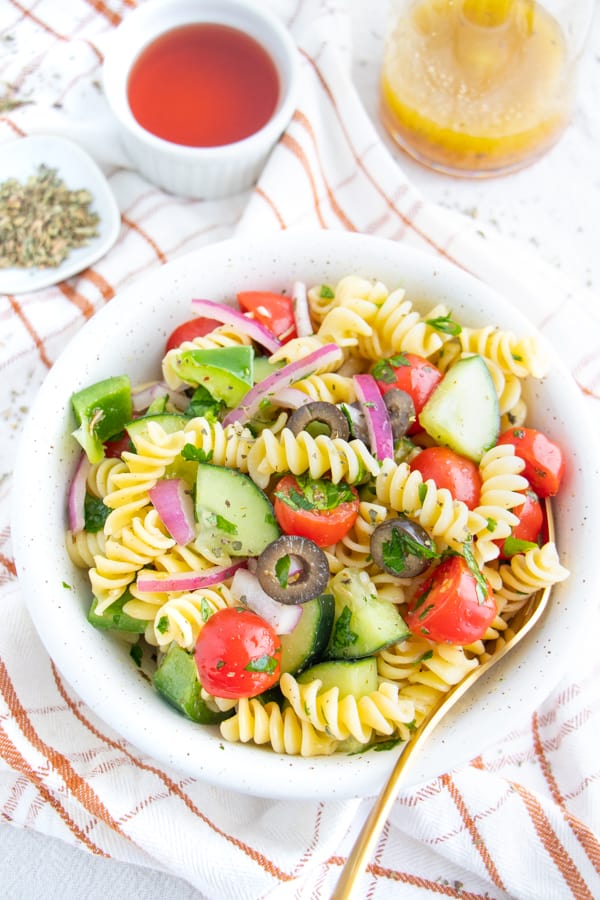 I also used my own Homemade Italian Dressing for this recipe if you'd like to try it, or else you can use store-bought!
Vegan Salad with Homemade Italian Dressing
Whether you're trying to decide on something to bring to a family reunion or potluck, this pasta salad is the perfect recipe.
It's hearty, affordable and so tasty, while being completely vegan and dairy free!
Feel free to experiment with the ingredients to your liking, and enjoy a delicious pasta salad anytime!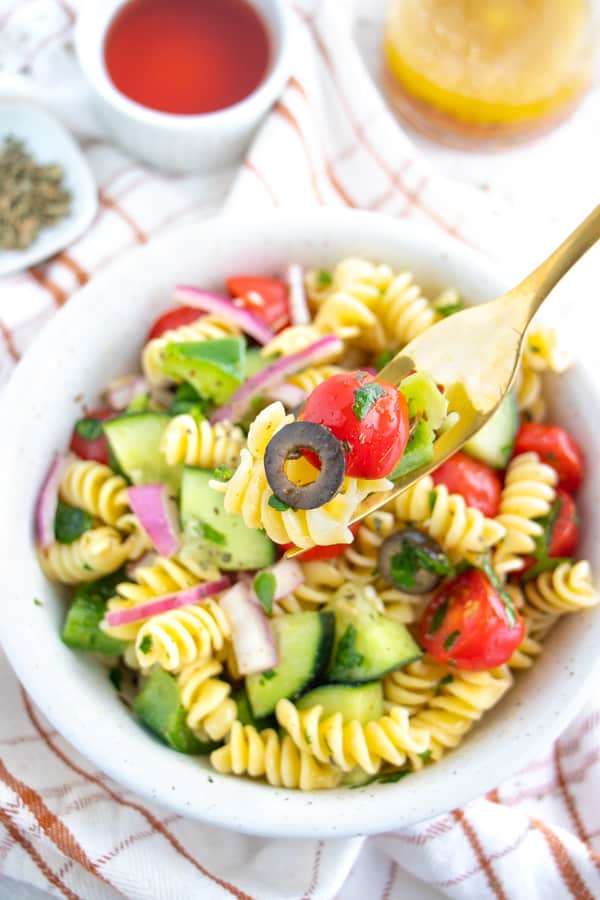 This recipe is:
Hearty

Flavorful

Healthier

Delicious

Easy

Quick

Budget-Friendly

Packed with Veggies
Try these other easy vegan recipes:
Homemade Vegan Italian Dressing
Pin this for later!
Vegan Italian Pasta Salad
This easy vegan Italian pasta salad recipe has a homemade Italian dressing, black olives, peppers, red onion, cherry tomatoes, cucumber and parsley!
Ingredients
16 oz. Rotini
1 Cucumber
1 Green Pepper
1/2 Red Onion
1 Pint Cherry Tomatoes
3/4 Cup Black Olives, pitted 
1/2 Cup Parsley
Instructions
Cook pasta according to package.
Chop vegetables into bite-sized pieces, pit and slice olives and chop parsley.
Add cooked pasta and remaining ingredients to a large bowl.
Add homemade or store-bought Italian dressing and toss to mix well. Enjoy!
Nutrition Information:
Amount Per Serving:
Calories:

456